Our online Reservation System makes booking your stay a click away

CLICK HERE FOR 0N-LINE RESERVATIONS
DISCOVER NORTH PEND
OREILLE COUNTY
REMOTE UNCROWDED UNDISCOVERED
Plan a Creative Vacation in Tough Economic Times
Don't give up vacation plans and memory building experiences because of the current economic conditions. Get Creative. Discover nature, build on new experiences, make life long memories. Here are some ways to make it happen: All of our rooms have mini fridges, microwaves, dvd players and personal coffee pots. the modular has a full kitchen, living room space with two reclining chairs. We also have available for those staying with us a picnic area and a covered BBQ. Still too much? Our sports shop has tents and sleeping bags, camping gear and more for sale and information on some great campgrounds on National Forest property.

What to do while you are here? Explore the outdoors...North Pend Oreille County has been called "the zoo" by wildlife people. Great year round fishing in the river (Northern Pike; bass; trout; perch to name a few); Sullivan Lake offers trout (state record German Brown caught here), fresh water ling cod, kokonee and more, in addition to other lakes and streams. Bird watching, wildlife discover (from brown to grizzly bear, moose, deer, elk, mountain goats, big horn sheep and more). Visit the two dams on the Pend Oreille River, Gardner Cave, seasonal rides on the Lions Club scenic train, hiking and much more await your vacation.

Click on our reservation page, make your plans now to discover eco friendly vacationing this year.
Luxury Doesn't Have to be Expensive

Now with Tackle/Sports Shop to serve our Guests
and the General Public (so do drop by and say hi)
Why pay top dollar for accommodations when less can be better?
Luxury doesn't have to be expensive.

(kids under 18 stay free, $10 per additional person 18 and older, No pets allowed.)
2 Queen Beds (pillow-top mattress.)
A Flat-screen TV in every room
A refrigerator, microwave, 4 cup coffee maker, hairdryers in all bathrooms
Wireless Internet access.
All rooms have heat and air conditioning
Picnic area and outdoor covered BBQ for guest use.
All rooms are non smoking.


It is our desire to offer you the best accomadations at a reasonable price so whether you are staying a night, week, month or more your experience with us will be memorable.
We look forward to doing business with you.
We accept the following credit cards:

Call our reservation number 509-939-6959


Store Hours 10am to 9pm

7 days a week
By joining our mailing list, you will be the first to know about:
Breaking news about our business
Helpful tips
special offers
To join, type your name and email address below and then click the Go button:
FISHING SEASON IS UNDERWAY
caught her first fish!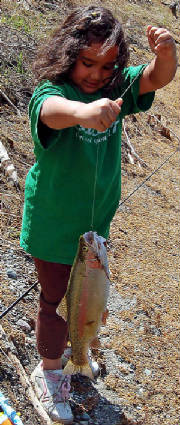 NORTHERN PIKE INVADE RIVER
Caught below Box Canyon Dam, this 20 lb Northern is one reason fishing on the Pend Oreille River has increased. With no limit and a seemingly endless supply of Pike, anglers are having a field day either from shore or in boats. The Sports Shop carries the most popular lures to ensure your chances of netting a potential state record.